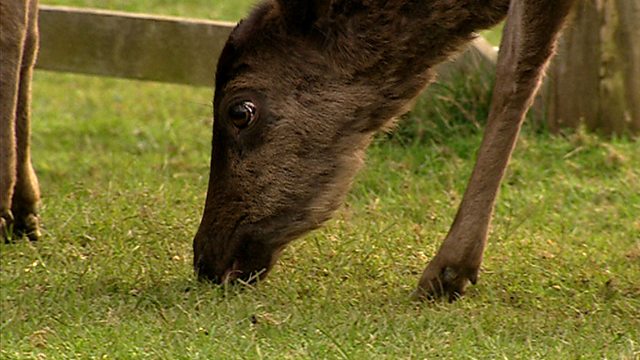 Dusky deer
These two cottages are in the middle of the forest and there are lots of birds round here. The owner decided he'd like them to visit his garden, so he put out a bit of bird food. As it turned out, though, he managed to lure something he didn't really expect. Bill Oddie hopes to see them - fallow deer. It's pretty extraordinary to see fallow deer visiting a garden. Roe deer, yes - they seem to be getting as common as little muntjacs, but not fallow. They are pretty shy normally. Imagine sitting down having your supper, looking out the window and you suddenly see this lot staring back at you, give you a shock, wouldn't it? Actually, fallow means pale, but look at these guys. These are a rather unique dusky race of fallow deer, descendants of a herd which was presented to James I by the King of Norway. And British fallows are not only paler, they're usually much spottier than these guys. This lot are nearly all does. By the way, it is doe a female deer in the case of fallows. Red deer, it's stags and hinds; fallow deer, bucks and does.
Credits
| Role | Contributor |
| --- | --- |
| Presenter | Bill Oddie |
| Camera Operator | Richard North |
| Camera Operator | Mark Yates |
| Producer | Vicky Webb |
| Producer | Hugh Pearson |
| Executive Producer | Fiona Pitcher |
Featured in...
Be captivated, informed and inspired by the world's wildlife.

Favourite video clips of the UKs best loved garden wildlife