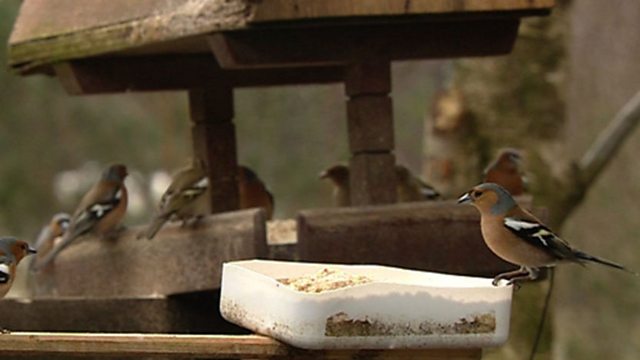 Food fights
The Glenmore Coffee Shop in Scotland is a perfect place to spot birds and sometimes even red squirrels. The Springwatch team in 2008 bugged the bird tables and surrounding area with cameras to see exactly what was going on. When you look closely at the activities around a bird table, there is some fascinating behaviour. Watching two chaffiches feeding at a feeder in slow motion, it's clear which is the dominant bird. The male on the right is feeding there already and dips his head and gapes at an incoming male - a clear threat to say 'keep off, this is mine'. Even though there is plenty of food, the dominant male is determined to keep the food all for himself and eventually flies at the newcomer to scare him away. But there is another threat far more sinister than a bossy chaffinch: a sparrowhawk that regularly visits these bird tables to try and get a meal of it's own. Its approach clears the area instantaneously. With the larger more dominant birds out of the way, when the sparrowhawk leaves the smaller birds, such as coal tits, have a short window in which to try and grab some food before the chaffinches return.
Credits
| Role | Contributor |
| --- | --- |
| Key talent | Bill Oddie |
| Key talent | Kate Humble |
| Key talent | Simon King |
Featured in...
Favourite video clips of the UKs best loved garden birds.

Be captivated, informed and inspired by the world's wildlife.