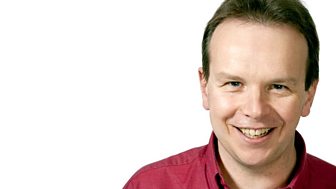 Graham Wright
Graham Wright was first heard broadcasting on Derbyshire's airwaves back in 1988 and has presented thousands of radio shows on stations across the East Midlands since!
He joined the team at BBC Radio Derby at the end of 2009.
Past broadcasting highlights include driving a Land Rover through a lake, almost being knocked down by a vintage tractor whilst interviewing MP Alan Duncan (at the very moment a new bypass was opened!) and reporting "live" from the deck of the QE2 as she sailed home on one of her last ever journeys to Southampton.
Graham is passionate about local radio and heritage - from the many larger historic buildings in our area down to the cosy traditional pubs still to be found "in town" and the surrounding villages.
A pint or two with friends in Ye Olde Dolphin would be his ideal night out!
He is a member of the Campaign for Real Ale and particularly proud of Burton's brewing legacy.
He is also a boating enthusiast and keen to see the full restoration of the Derby and Sandiacre Canal linking the Trent & Mersey to the Erewash.
Graham is an avid collector of 7-inch singles for his 1970s jukebox, a keen writer and an occasional pianist.
As a "fair weather" cyclist he shamefully now prefers the use of his car to tackle Derbyshire's steepest hills and enjoy the best of the local scenery!
Frank Sinatra is still his all time hero but he likes a wide range of music from the 1930s to the current charts: "As long as it has a tune."
On demand
This programme is not currently available on BBC iPlayer Radio
On radio
There are no upcoming broadcasts of this programme
Last on