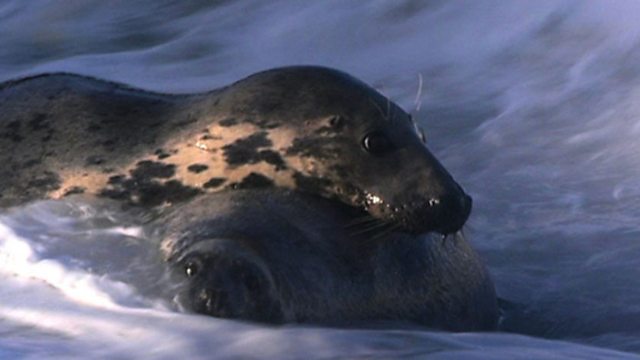 Terrible timing
Grey seals make life difficult for themselves. They come on land to give birth not in spring or summer, but in autumn. This means their tiny pups face some of the harshest weather conditions of all in their first few days of life. One reason for this choice may be that it allows the mothers to put on lots of weight during the rich and plentiful summer months. While the mother is giving milk to her pup she won't feed herself at all. But this is a high risk strategy. The pups must treble their body weight in just three weeks so they can leave the land and head out to the safety of the high seas. While the pups are on land they are very vulnerable, especially because their curiosity sometimes gets the better of them. Sometimes they will take a dip in the sea before they are really ready and it makes for a hair-raising few moments and causes their mothers no end of trouble. Mothers may be able to save them while they are still young, but soon they will abandon them completely, going back to the seas to feed up and mate. By then, they will have lost over a third of their own body weight during nursing. Back in 2007, almost all the pups in the Farne Islands were washed away and killed by a storm surge. It seems incredible that any pups manage to survive at all, but fortunately they do, and these young pups will soon embark on a really big adventure out into the high seas.
Credits
| Role | Contributor |
| --- | --- |
| Presenter | Gordon Buchanan |
| Producer | Stephen Moss |
| Executive Producer | Tim Scoones |
Featured in...
Be captivated, informed and inspired by the world's wildlife.

The best of British seasonal wildlife highlights in video.