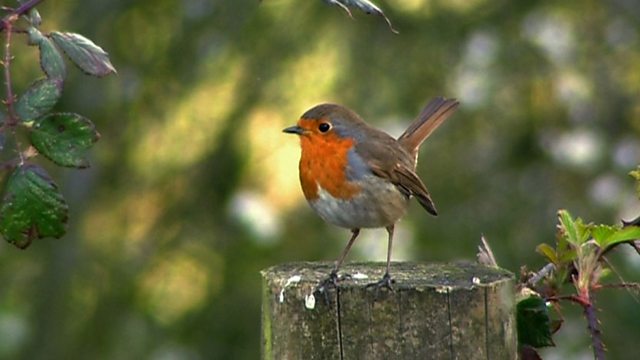 Rockin' robins
The robin: they're small, plump and bright-eyed, and though there isn't a bushy tail they do cock their tails from time to time. They wear cheery red waistcoats and seem to bounce along. In fact, robins are so friendly and cheerful that many people think they actually seek out human company. Maybe they do, but it's usually only because we provide things they want: whether that's novel nest sites, or food for their chicks. If they perch on a garden spade, it's not because they like gardening, its because there might be a few freshly turned up worms for them to feed on. They mighjt seem friendly, but they are amongst the most belligerent little blighters in your garden - especially in the breeding season. Robins are highly territorial and males settle their dispute by knocking the living daylights out of each other. But wherever you are in the world, it's not the large gaudier American robin you see, but our British version.
Credits
| Role | Contributor |
| --- | --- |
| Presenter | Bill Oddie |
Featured in...
Favourite video clips of the UKs best loved garden birds.

Be captivated, informed and inspired by the world's wildlife.