Bird in the hand
Duration: 04:00
Gordon Buchanan visits the Hawk Conservancy Trust to see a British bird of prey so rare that most people in the UK have never seen one. An injured honey buzzard has been brought into the Trust. He was found in the water of the Solent, and picked up by someone in a boat. The buzzard must have been exhausted to ditch in the sea, but that's maybe no surprise as it will have migrated over 3,000 miles from Africa to breed in the UK. Unlike most birds of prey, honey buzzards feed almost exclusively on bee and wasp larvae. They have reinforced feathers and leg scales to stop the stings. Their beak is adapted to pluck larvae from the hive. The patient has put on a lot of weight since he came in hours from death and has made a remarkable recovery. Gordon helps to worm the bird. He is then put outside into the pre-release aviary, prior to being set free. The Trust tries to release birds where they find them, but as this isn't practical for this migrant, he'll be released in an area where they know there are females. He can choose to stay or migrate on from there.
Available since: Tue 18 May 2010
Credits
Key talent

Simon King
Key talent

Kate Humble
Key talent

Chris Packham
Key talent

Gordon Buchanan
Key talent

Martin Hughes-Games
Producer

Reema Lorford
Executive Producer

Tim Scoones
This clip is from
In Wales, Simon King has a seabird murder mystery to solve.
First broadcast: 10 Jun 2009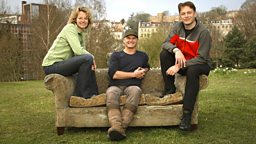 Featured in...
Be captivated, informed and inspired by the world's wildlife.
More clips from Episode 11