Water specialists
Duration: 03:01
Simon King heads for a river to find out what hunts insects at night using thermal and infrared cameras to film bats. The place is plagued by midges and other insects - perfect for bats. Daubenton's bat is an expert at hunting over water, skimming low over the surface to grab the insects as they emerge. Four bats turn up and zoom about as they feed. A Daubenton's bat catches quite large insects, so eats about 1,000 a night. A pipistrelle will eat about 3,000 tiny insects such as midges.
Available since: Tue 18 May 2010
Credits
Key talent

Simon King
Key talent

Kate Humble
Key talent

Chris Packham
Key talent

Gordon Buchanan
Key talent

Martin Hughes-Games
Producer

Reema Lorford
Executive Producer

Tim Scoones
This clip is from
See the best of the wild animal antics that Springwatch viewers have filmed themselves.
First broadcast: 02 Jun 2009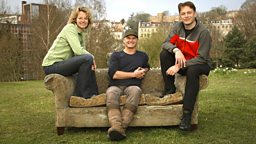 Featured in...
Be captivated, informed and inspired by the world's wildlife.
More clips from Episode 6