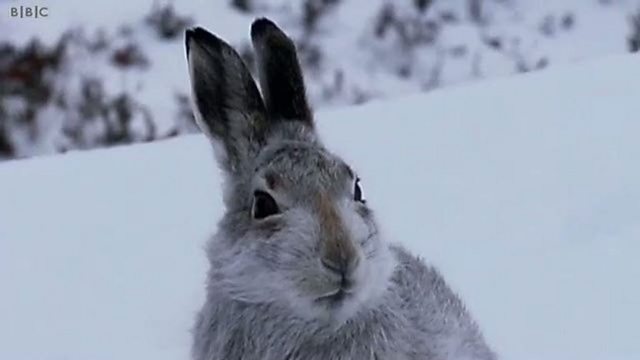 Over exposed
It has brown fur in the spring and summer, but it has evolved to turn itself white in the winter to camouflage itself againt the snowy peaks. Johnny Keeling has been watching wildlife since he was young, and the mountain hare fascinates him. Close up, a hare's fur appears soft and dense - even when the air is freezing cold, hares are happy to sit on the snow feeding. When the weather warms and the snow melts the mountain hares have to change colour and before they do they stand out well on the dark background. This means the hares are more skittish, they feel more secure when their camouflage works well. As global warming becomes more of a problem, this may pose a real risk to the mountain hare. The on-average warmer winters we are having in the UK means there is less snow and whilst still white they are an easy target for predators against the dark background of the hills. All this could increase the stress on the animals which in turn may affect their breeding. As the hares live at the top of the mountains already, they can't migrate anywhere colder as there is no more mountain top. Unfortunately, the hares are stuck and global warming could see the end of them.
Credits
| Role | Contributor |
| --- | --- |
| Presenter | Chris Packham |
| Producer | Richard Taylor-Jones |
| Executive Producer | Tim Scoones |
Featured in...
Be captivated, informed and inspired by the world's wildlife.

The best of British seasonal wildlife highlights in video.