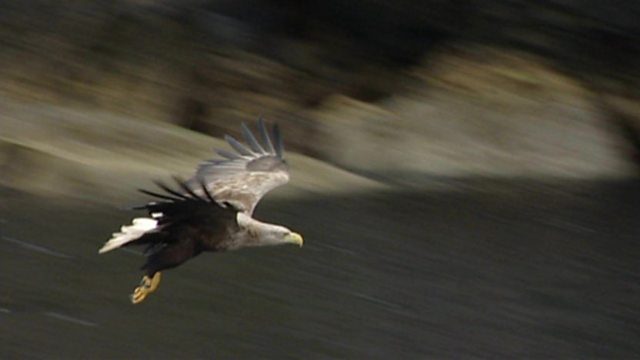 Big birds
Skye is the largest and best known island of the Inner Hebrides. It has impressive mountains and 1,000 miles of beautiful coastline. It is easy to get to by ferry or the Skye road-bridge. Mike Dilger stops at Portree, a fishing port, to collect some fish. He's hoping to get close to a magnificent bird that was hunted to extinction in the UK 100 years ago, so he's on a boat trip with Alison McLennan, RSPB conservation officer for Skye. After successful reintroduction there are now 30 pairs of white-tailed sea eagles breeding in western Scotland. They have a wingspan over two metres, with the female's being 2.4 metres which makes them the UK's largest bird and the fourth largest raptor in the world. The eagles are perched on the cliffs near their nest, which has three chicks in it. Mike throws fish into the sea for the eagles to swoop down and take. With three chicks to feed, the eagles are quick off the mark. The RSPB gives the white-tailed sea eagles food in late spring, when they are nesting. The eagles whiffle like geese to lose height before extending their talons and snatching the fish off the water.
Featured in...
The best of British seasonal wildlife highlights in video.

Be captivated, informed and inspired by the world's wildlife.