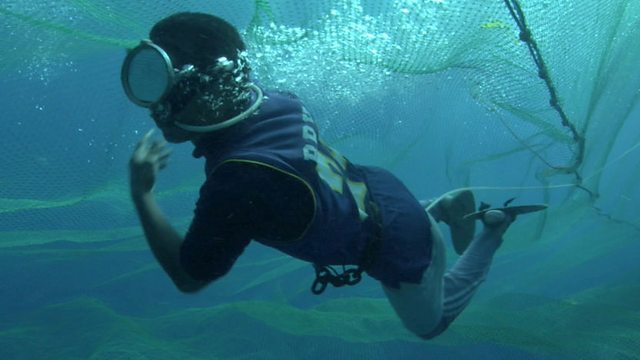 Filming Pa-aling: Lost at sea
In October 2009 a nine-man strong crew set off to Palawan Island in the North West Philippines to film what would prove to be one of the most compelling and dramatic sequences of the Oceans episode. Amongst the crew were two underwater cameramen, a topside cameraman and a stills photographer. The team's aim was to film a mass fishing technique called Pa-aling which involves around 100 divers working together to catch fish 40m below the waves.
The plan was to follow two Pa-aling fishing boats out to sea as they searched for rich fishing grounds and then film them working for five days. Unfortunately, filming on the ocean waves is not always plain sailing. From dodging typhoons, to getting lost at sea, we soon realised that this shoot was going to be a hard one to pull off.
Featured in...
Watch a selection of exclusive clips from the Human Planet series.

Clips from BBC programmes showcasing man's relationship with the natural environment.