All alone on the nest
Duration: 01:34
Eriksson is now all alone on the nest with four neighbouring wandering albatross chicks. Its parents are out at sea searching for food. Although it might be scary for the chick alone on the nest, there are no rats on this island and the chick is too big for the hungry skuas and giant petrels. He preens his down. It's important to look after it as it is the only protection the chick has to keep warm over the oncoming wintery months. Starvation is probably the biggest threat to chicks this age, but Eriksson has some experienced parents so hopefully it's not too great a threat for this chick. He has already experienced some wet and cold weather but it doesn't appear to have bothered the chick. British Antarctic Survey scientist Claudia Mischler is looking forward to watching this ball of fluff turn into an amazing wandering albatross.
Available since: Fri 30 Apr 2010
This clip is from
Wildlife stories from programme makers on location.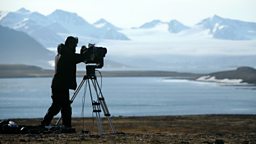 Featured in...
Be captivated, informed and inspired by the world's wildlife.