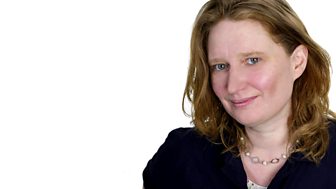 Sarah Gorrell
A round-up of all the day's main news and great music to drive home to.
A helpful careers advisor suggested that three years of hanging around dubious student drinking haunts would not be enough to impress future employer on the "interests" section of her CV.
So following a disastrous spell in the University Rowing Club (ordered for long daily runs around the campus by a very bossy coach, not the leisurely row along the river she'd hoped for).
And other forays into impressive sounding activities, she stumbled across University Radio Nottingham and loved it so much she decided to do a post graduate journalism diploma at city university.
Sarah then worked for a variety of independent stations as a presenter and journalist before joining the BBC in Cornwall as a reporter.
It wasn't long after this that she was asked to take over the evening phone in show across the South West
She was originally terrified at the thought of dealing with callers on a daily basis but grew to love the unpredictability of it and the fact that people shared some amazing stories.
Sarah remember moments like a terribly serious debate on Iraq when she crossed to a caller and said "Dorothy, what was your point?" to which she replied "I don't know I just phoned in to play the spoons".
She says "you never knew quite who was going to call and what was going to happen."
The programme was nominated for a Sony award, after a phone in with a caller, who worked as a dominatrix, provoked some incredible stories.
It always amazes her what people are prepared to share.
A year later she again won awards in the Speech Broadcaster and Interactive category as the result of stories told by callers who'd been bereaved by Suicide.
She says it is fantastic to work on a programme where people are prepared to share so much.
The show always provoke a strong reaction from callers and texts and it's good to focus on the local stories that mean so much to people.
Join Sarah on BBC Sussex ... weekdays from 1600.
Quality news, travel, weather and sport. Be part of it by calling 08459-570057 and text 81333 (start your message with the word "radio").