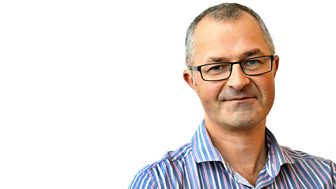 Mark Dennison
Mark was born in Manchester but moved to the north east of England when he was just 4. His earliest memory of this was falling off his go-kart and cracking his head open on moving day....ouch!
He came to Nottingham in the late 80's to study "Humanities" (that's right - he couldn't decide what to do, so chose a mish-mash of subjects) at Nottingham Trent. It was here that a passion for radio was ignited - Mark worked voluntarily for Nottingham Hospitals Radio. His big break came in the early 90's, when some weekend work/holiday cover came up at TFM radio, in the north east and later, at Trent FM in Nottingham. After graduating, Mark's radio career took him back to the north east, then to Yorkshire and back to Nottingham in 1996.
In terms of family life, Mark is married to Jeanette, who works for the NHS and they have a son and a daughter, plus a black labrador called Molly.
Mark's interests include cooking, playing squash and cycling - last year, he rode from London to Paris and this year took part in the Great Nottinghamshire Bike Ride (75 miles).
Mark is a keen Forest fan (he attends most home games and does the stadium announcements on match days) but also supports his son's team...even on cold, wet, windy Sunday mornings! Oh the joy!!
New competition - The Top Three Challenge
The Top Three Challenge is Mark's new competition which tests your local and general knowledge.
Answer one question correctly to win the prize.
The competition is played each Friday starting on 01/04/16. Competition entries are taken by phone only on 0115 9343434, standard geographic charges from landlines and mobiles will apply.
You can only call in to take part during a 'trigger track', this is a record that Mark will play sometime between 0900-1115 each Friday. You must be able to play live on air between 1115 and 1130.
You can only play the competition during the live show, not when listening to a repeat or on demand.
Full terms and conditions can be found here.