Why Am I Paid What I'm Paid?
Duration: 03:26
There has been a huge amount of fuss recently about what some people are paid – MPs and their expenses, footballers and their colossal wages, TV stars and their huge contracts and – of course – bankers and their bonuses. When we hear that someone has pocketed millions in a single year, we may be tempted to feel that it's all totally random and unfair. But is it?
One of a series of short films featuring Business Editor Robert Peston. He examines how we got into the recent financial crisis and what you can do to protect yourself.
Available since: Mon 29 Mar 2010
This clip is from
Robert Peston examines the recent financial crisis and what you need to know about money.
First broadcast: 07 Jun 2010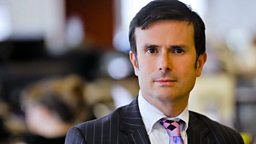 More clips from On the Money with Robert Peston