What Is Money?
Duration: 03:21
Who decides that the piece of paper that says £20 on it is actually worth something? After all, it's only a bit of paper. And how does the value of what this can buy change? Also does the amount of money in existence vary and if so how? Now there is a bloke at the Bank of England Andrew Bailey who should have the answers – because if you look carefully at the bank notes in your pockets and wallets, his signature will be on all of them. Robert Peston went to the Bank of England to interrogate the man who makes the money we use.
One of a series of short films featuring Business Editor Robert Peston. He examines how we got into the recent financial crisis and what you can do to protect yourself.
Available since: Thu 25 Mar 2010
This clip is from
Robert Peston examines the recent financial crisis and what you need to know about money.
First broadcast: 07 Jun 2010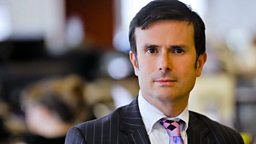 More clips from On the Money with Robert Peston