Underground crocs
Duration: 03:30
Months ago, a five metre, half ton, Nile crocodile scraped out a burrow to escape the heat of the African sun. Now he's in a state of suspended animation, with his heart beating just twice a minute, delivering just enough blood to prevent his vital organs shutting down completely. To survive, he draws on the fat reserves accumulated from last year's hunt. In this condition, the crocodile can wait out the worst of the African drought. When the rains finally return, the predator flickers to life. But before this cold blooded reptile can hunt, he needs to warm up, so he leaves his burrow to sit in the sun. The ridges of scales along his back are more than just body armour. They act like solar panels, absorbing the heat from the sun. Just under the surface of this scaly skin is a web of capillaries that carry the warmed blood to the crocodile's core, activating his systems. His eyesight sharpens and his hearing tunes in to the world around him. For the next six months he must make do with fish to snack on, until the larger prey arrives in the migration.
Available since: Tue 23 Mar 2010
This clip is from
Documentary revealing the inner alchemy that gives four of nature's hunters the edge.
First broadcast: 25 Mar 2010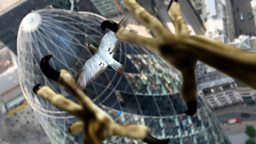 Featured in...
Be captivated, informed and inspired by the world's wildlife.
More clips from Inside the Perfect Predator