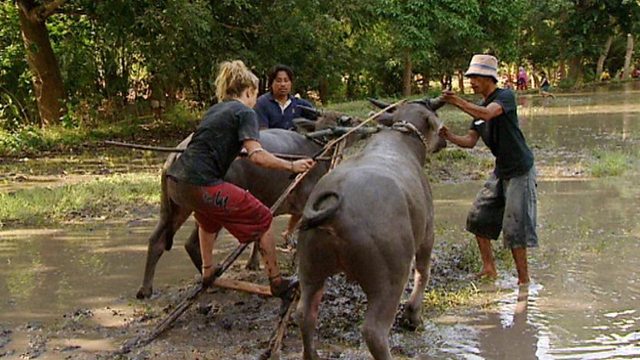 Sumbawa: Water Buffalo Racing
Series in which five athletic adventurers from the west compete for glory against tribal champions in some of the remotest corners of the globe, with the ultimate aim of being crowned the last woman standing. They have just a week to master an indigenous sport, training and rituals whilst eating and sleeping as their fellow competitors do.
In the fifth programme, the athletes take on the insane sport of water buffalo racing in Sumbawa, Indonesia. They must have nerves of steel as they become balancing jockeys, controlling two bullocks as they gallop towards a target at terrifying speeds.
The Sumbawan farmers live a quiet peaceful existence, tending their fields and grazing their animals. But once a year, they come together to show off their prize buffaloes and compete as macho jockeys in a dramatic chariot race. The sport is traditionally male dominated, but has opened up to women in recent years. As part of the local Indonesian Independence Day celebrations, women will be allowed to compete in public for the first time on a grand scale. How will the locals rate the western girls?
The athletes must master balancing on small, wooden chariots as they are dragged behind two primed bullocks across a paddy field shin-deep in muddy water. These animals have been bred and trained for water buffalo racing and they move at speeds of over 30 mph. The athletes will have to battle their nerves and race over a distance of 300m.
Credits
| Role | Contributor |
| --- | --- |
| Participant | Lesley Sackey |
| Participant | Anna Campbell |
| Participant | Alexandra Alam |
| Participant | Joni Swanston |
| Participant | Natalie Smith |
| Director | Jay Taylor |
| Producer | Sophie Todd |
| Executive Producer | Gary Hunter |