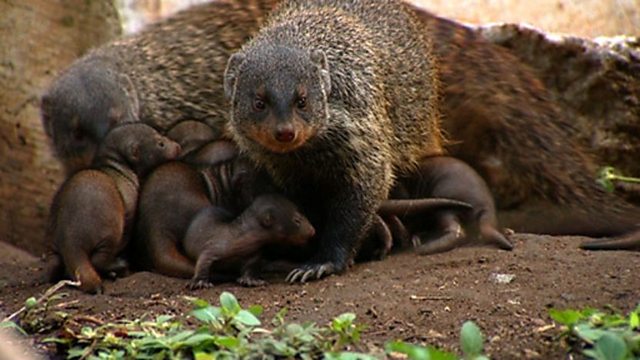 Milk bar kids
At the mongoose den the babysitters have their hands full with all the new babies exploring their surroundings. As they grow up any of the mob can act as babysitter, but only new mothers can provide the necessary milk. Pups grow at a fast rate, tripiling in size in just a month. They are fully dependent on milk until they are five weeks old, when they will be weaned and begin making foraging trips with the adults in search of food. Competition for milk is fierce, but a competitive spirit is key to mongoose survival. Pups need to be strong and healthy, as the weaker pups can easily be left behind when the family moves den. So when the milk bar opens, it's every pup for themselves.
Credits
| Role | Contributor |
| --- | --- |
| Camera Operator | Ralph Bower |
| Camera Operator | Mark MacEwen |
| Camera Operator | John Waters |
| Camera Operator | Luke Barnett |
| Camera Assistant | Helen Johnson |
| Consultant | Dr Michael Cant |
| Narrator | Dexter Fletcher |
| Production Manager | Janelle Backes |
| Production Manager | Anna McGill |
| Producer | Colin Jackson |
| Executive Producer | Wendy Darke |
| Assistant Producer | Louise Emerson |
| Composer | Will Slater |
Featured in...
Be captivated, informed and inspired by the world's wildlife.

Discover more about Africa's most surprising and also best-loved wildlife.