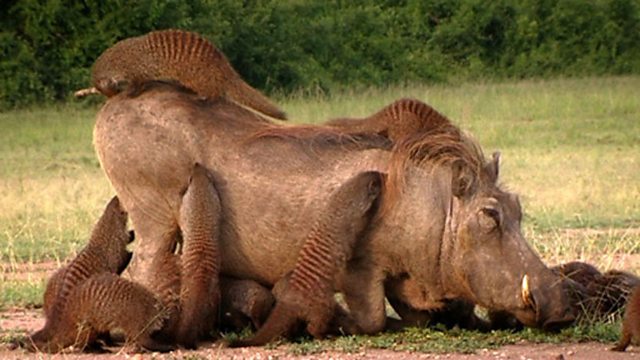 Mongoose spa
Warthog's are common sights around the Queen Elizabeth National Park in Uganda, and they are not to be messed with. Their tusks are formibable pieces of hardware, used to fend off attacks by predators such as lions, as well as to fight with each other. They should not be underestimated and when an adult male warthog deliberately walks up to the banded brothers mob, they stand their ground. A mongoose could be seriously hurt with one swipe of the warthog's tusks, and even a simple injury could spell the end of any mongoose. But as it turns out these mongooses run a cleaning racket for the warthogs of the Mweya peninsula. By allowing the mongoose to climb all over its body, the warthog has all its ticks removed and the mongoose gets a protein-rich meal. This is a unique symbiotic relationship between two mammal species, and one which benefits both parties. The banded brothers make quick work of their cleaning duties and the warthog goes on its way.
Credits
| Role | Contributor |
| --- | --- |
| Camera Operator | Ralph Bower |
| Camera Operator | Mark MacEwen |
| Camera Operator | John Waters |
| Camera Operator | Luke Barnett |
| Camera Assistant | Helen Johnson |
| Consultant | Dr Michael Cant |
| Narrator | Dexter Fletcher |
| Production Manager | Janelle Backes |
| Production Manager | Anna McGill |
| Producer | Colin Jackson |
| Executive Producer | Wendy Darke |
| Assistant Producer | Louise Emerson |
| Composer | Will Slater |
Featured in...
Discover more about Africa's most surprising and also best-loved wildlife.

Be captivated, informed and inspired by the world's wildlife.