Ambushed!
Duration: 04:01
While the banded brother mongoose family forages for food away from the den, they fail to notice that the pups are in danger. Lurking in the shadows are three rogue males from the rival group, the striped gang. Attracted by the scent of females in season, these three likely lads are hoping for a sneaky mating. It's a risky strategy, but with the banded brother males away and only two males on duty at the den, this could be their only chance to score. One of the rogue males takes his chance, coming dangerously close to the den entrance, but he's spotted and quickly chased away. However, when the guards return from the chase something is wrong. The pups are alone at the den and their female guardian has vanished! She's been lured away by the rogue striped males and she's clearly up to no good. Receptive females will often mate with males from other packs during territorial fights, but this is particularly brazen. As she moves closer to the den, the males of the family manage to usher her out of their rivals' grasp. Its now a staright fight between the males of the family. Teamwork enables them to see off these rogue males and protect both den and pups.
Available since: Mon 15 Feb 2010
Credits
Camera Operator

Ralph Bower
Camera Operator

Mark MacEwen
Camera Operator

John Waters
Camera Operator

Luke Barnett
Camera Assistant

Helen Johnson
Consultant

Dr Michael Cant
Narrator

Dexter Fletcher
Production Manager

Janelle Backes
Production Manager

Anna McGill
Producer

Colin Jackson
Executive Producer

Wendy Darke
Assistant Producer

Louise Emerson
Composer

Will Slater
This clip is from
1/4 A family of banded mongooses needs new recruits to be born regularly to defend territory.
First broadcast: 21 Feb 2010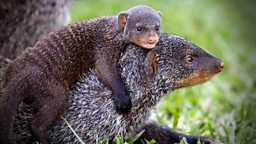 Featured in...
Be captivated, informed and inspired by the world's wildlife.
More clips from Episode 1