Thorn tree of Africa
Duration: 03:11
The acacia tree can cope in the hard savannah environment, because its shallow roots can extract any moisture from the soil above the hard ash pan, and its tiny leaves reduce water lost to evaporation. These small leaves are nutritious enough to support the world's tallest animal, the giraffe, which is lofty enough to exploit a niche that no others can reach. But the acacia crown is not only attacked from the top down but also from the bottom up! The gerenuk has a skeleton that's adapted so it can spend all day standing on its hind legs to eat. The dik dik is one of Africa's shortest antelopes, and at ground level the acacia thorns are at their fiercest. But the dik dik's tiny head fits perfectly between the spikes and so the acacia is attacked from every angle. The acacia can just about cope with the impact of nibblers like these, but seedling acacias are simply annihilated by the elephant, and adult trees aren't safe either! The elephant's trunk is sensitive enough to select individual leaves but strong enough to rip off entire branches. The combination of tusk and trunk makes short work of heavy wood, and a single African elephant can flatten a tree a day.
Available since: Mon 1 Feb 2010
Credits
Narrator

Hugh Quarshie
Producer

Phil Chapman
Executive Producer

Mike Gunton
This clip is from
3/3 Looking at the spectacular game herds of East Africa's grasslands.
First broadcast: 07 Feb 2010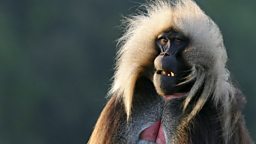 Featured in...
Be captivated, informed and inspired by the world's wildlife.

Discover more about Africa's most surprising and also best-loved wildlife.
More clips from The Great Rift: Africa's Wild Heart