Social benefits
Duration: 03:59
Lions live in groups known as prides, with lionesses at the core. There may be a dozen or so females all closely related, mothers and daughters, sisters and aunts, it is these lionesses that do most of the hunting. Two or three males, often brothers, will have fought as a team to drive off their predecessors to take over the pride, and they will fight again if newcomers try to displace them. For lions, living in groups brings several advantages, it enables them to tackle large, powerful prey such as buffalo. These huge animals are three times the weight of a lion and a single hunter would be very unlikely to tackle a healthy adult buffalo alone. But a pride, by working together, has a chance, the preliminary chase serves to get the measure of the quarry and to isolate an individual. If one buffalo seems weaker than the rest, it will become the target of the lions attack. Despite the numbers pinning it down, the buffalo is still dangerous until it is finally killed, and the feasting begins. There's little squabbling or fighting in the pride when they begin to feed, a hierarchical structure allows those who haven't got a place at the carcass to amiably await their turn. Only in very hard times, when the pride is extremely hungry will issues of priority be settled by fighting. A lion pride will dominate the harsh and ruthless world of the African plains, the secret of that success is in their co-operation. This co-operation even extends into other parts of their lives, the lionesses nurture their cubs as a team, taking turns to guard them and on occasion suckling one another's infants.
Available since: Wed 3 Feb 2010
This clip is from
9/12 David Attenborough examines how recognising friends is vital in the animal kingdom.
First broadcast: 28 Nov 1990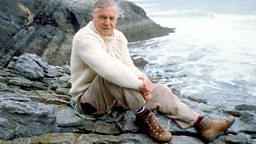 Featured in...
Be captivated, informed and inspired by the world's wildlife.
More clips from Friends and Rivals