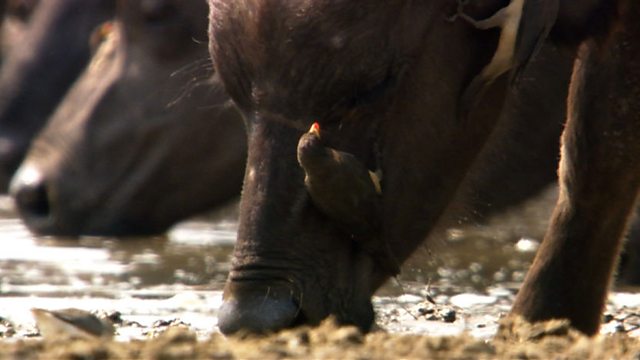 Drinking time
As the rains retreat northwards, the increasingly arid landscape poses a problem for the Great Rift's wild inhabitants, and is a particular problem for the African buffalo. Each buffalo needs to drink 34 litres a day, as dry grass is difficult to digest. As the grazing close to the river is used up, they face a longer and longer daily trek between their feeding grounds and watering places. Buffalos can smell water from a long way off and follow established trails through the bush, which lead to favourite drinking spots. As the buffalos drink, fluttering oxpeckers get a chance to remove ticks and other parasites from their faces, but this is the only time they will tolerate sharp beaks picking around sensitive eyes and ears.
Featured in...
Discover more about Africa's most surprising and also best-loved wildlife.

Be captivated, informed and inspired by the world's wildlife.