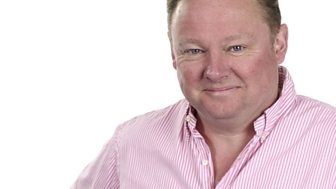 David FitzGerald
Join David FitzGerald on BBC Radio Devon. Call 0845 301 1034 or email: fitz@bbc.co.uk
Contacting the show
Call during the show on 0345 301 1034, calls cost up to 5p/min from most landlines, an additional connection fee may also apply. Calls from mobiles may cost considerably more.
Send a text* to 81333 (begin your message with the word DEVON). Charged at your standard message rate.

Or e-mail anytime: fitz@bbc.co.uk
Text messages can only be accepted during the live version of the programme, not when using the 'listen again' facility.
Meet Fitz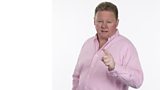 David first began broadcasting on commercial radio in the early 1980s, before moving to television.

Working first at TSW and then Anglia Television, Fitz made the move to Sky News in the mid-1990s and was at the front of nearly every major disaster for nine years.

"From the trial of OJ Simpson to the death of Princess Diana, the knack of getting myself in the right place at the wrong time even got me into Trivial Pursuit as a question in 1995!"

This inspired Fitz to come up with some questions of his own, and has since contributed thousands of questions to quizzes.

This mine of useless information often finds its way into his programmes as well.

Fitz also finds time for writing, and has scripted TV favourites such as The Bill and Spitting Image.

He's also written a children's book, A Nod from Nelson, with Falklands veteran Simon Weston OBE.

Devon has always been very important to Fitz though, and he returned in the early 2000s.

As well as working in radio again, he writes regularly for local newspapers and Devon Today magazine.

Despite his "fuller figure", he's into sport too, regularly enjoying a game of golf on one of Devon's ranges.

"If you see me, give me a wave!"
Brain of Devon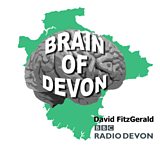 BBC Radio Devon David FitzGerald Brain of Devon Competition Terms & Conditions
The competition is open to all residents of the UK, including the Channel Islands and the Isle of Man, aged 18 or over except BBC employees, their close relatives or anyone connected with the competition. Proof of identity and eligibility may be required.
The competition will run daily (Monday to Friday) within the David FitzGerald mid morning show 10-1pm on BBC Radio Devon and will promoted in trails and adverts on the station in general. Listeners will be asked to call the radio station on 0345 301 1034 and answer cryptic crossword clues, the correct answers are clues to reveal a general theme. The first person who correctly guesses the theme is the competition winner.  The competition will usually be played between 10am and 11am.
Standard geographic charges from landlines and mobile will apply No other method of entry will be accepted.
If you enter either before the opening time or after the closing time specified above your entry will not be accepted but you will still be charged. If you enter more than once, only the first entry will count, subsequent entries will not count but you will be charged.
Winners will not be permitted to enter subsequent rounds of the competition.
Prizes vary but may include tickets, books, DVD's or merchandise such as T-shirts or pens etc.. The Prize will be accurately described on air before the competition opens.
The prize is stated as above. There is no cash alternative and the prize cannot be sold or transferred in any circumstances. The BBC reserves the right to substitute or supplement any element of the prize.
The BBC's decision as to entrants taking part and winners is final. No correspondence relating to the competition will be entered into.
Entrants agree to take part in any post-competition publicity if required.  The names of winners will be made public.
The BBC will only ever use personal details for the purposes of administering this competition and in accordance with the BBC's Privacy Policy. The BBC will only keep your personal details for as long as is necessary to fulfil these purposes. The BBC will not pass on your personal information to a third party without your prior permission. Please see the BBC's Privacy Policy (http://www.bbc.co.uk/usingthebbc/privacy/privacy-policy)
This competition is conducted in line with the BBC's code of conduct for competitions, which can be found on 
http://www.bbc.co.uk/editorialguidelines/guidelines/appendix2
The BBC reserves the right to: (i) amend these terms and conditions including, but not limited to, the competition opening and closing times; (ii) disqualify any entrant who breaches the rules or has acted fraudulently in any way; (iii) where applicable, disqualify an entrant or winner, withdraw or substitute any prize, should any entrant, winner or their guest at any stage exhibit inappropriate or dangerous behaviour (including, but not limited to being under the influence of alcohol, illegal drugs or chemical substances or causing a nuisance) before or whilst on air, attending BBC premises or where the prize includes attendance to an event, exclusion from that event; and (iv) impose any additional entry restrictions or requirements should the prize being offered require such restrictions or requirements (including but not limited to tickets for events with an age minimum or other entry requirements).
The BBC, their sub-contractors, subsidiaries and/or agencies cannot accept any responsibility whatsoever for any technical failure or malfunction or any other problem with any server, system, network or mobile operator or service provider or otherwise which may result in any registration not being properly logged or not recorded.
Entrants will be deemed to have accepted these rules and to agree to be bound by them when entering this competition.
The competition is run by the BBC. The applicable law is that of England and Wales.