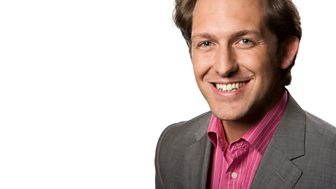 David Whiteley
The man from Inside Out kick starts your weekend.
About the programme
David Whiteley is voice of Saturday mornings as he looks to kick-start your Norfolk weekend.
The man from TV's Inside Out for the East of England has been in radio and television since 1995.
David started out in commercial radio as a journalist and newsreader before moving to the BBC in 1998. He was a news presenter on BBC Essex and then made the switch to Norfolk to work as a reporter for Look East.
With his unique charm, it wasn't long before he landed the job as the front-man for Inside Out, which he continues to present and produce.
David never lost his love for radio and over the years, he's stood in on many shows on BBC Radio Norfolk.
But now he has his own show and is looking to unleash a bit of humour through the airwaves, while making sure you have the latest news, sport, travel and weather to get your weekend off to the most informed start.
Inside Out keeps David busy all year round, revealing some surprising stories.
Investigations have taken him all over the UK, Eastern Europe and West Africa, but he is just as happy being at home with his wife, Look East presenter Amelia Reynolds. David's used to the early starts as the couple have two young daughters!
Outside of work, when time permits, David can be found surfing in the North Sea and also enjoys running. He's done the London Marathon twice - but he says never again!
Every week on BBC Radio Norfolk David will be calling a team member from the Coast Call Crew to find out what it's like at the beach (typical surfer!)
There's also Whiteley's Wives To Be, with the girls of Norfolk getting a surprise call on their big day.
To join the Coast Call Crew or get a bride-to-be on the air, drop David an e-mail.
Join David Whiteley every Saturday from 6am until 9am.