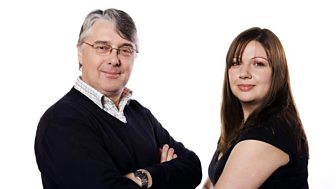 David and Becky
David Clayton and Becky Betts get your take on some of the quikier aspects of life, and chat to a Quest Guest - someone Becky met on a recent edition of Treasure Quest.
On demand
This programme is not currently available on BBC iPlayer Radio
On radio
There are no upcoming broadcasts of this programme
Last on
Mon 7 May 2012 10:00
BBC Radio Norfolk
About the show
DAVID CLAYTON Born in Yorkshire and moved to Gorleston-on-Sea, his favourite place in Norfolk, in 1963 - so he's very nearly 'a local' now.

A failed accountant - he's not proud of it but there it is - he fell into being a disc-jockey and was plying his trade round the clubs and dance halls of Norfolk back in the disco-days of the 70s. 

David starting broadcasting with Hospital Radio, so when the BBC was looking to launch BBC Radio Norfolk in 1980 he persuaded them to give him a chance. 

David also ended up as a regular presenter on Look East, along with a four year stint on BBC Radio 4. He also enjoys writing in his spare time and walking in his favourite Yorkshire Dale. 

When network radio seemed to indicate they'd had enough of him, the Assistant Editor's job came his way back at BBC Radio Norfolk - that was 1991. In 1998 he became the Editor. 


BECKY BETTS...As well as spending Sunday mornings darting across Norfolk, Becky spends her weekdays producing the Big Screen on Chapelfield Plain in Norwich.

For two years Becky was the Action Desk manager at BBC Radio Norfolk. 

Before that she spent nearly nine years over the border at BBC Radio Suffolk, starting as a volunteer while studying for her Performing Arts degree. 

Convent girl Becky has had a variety of jobs over the past 14 years ranging from being a home-carer, cleaner, barwoman, bouncer, marketing assistant and factory worker. She says wouldn't change a thing. 

Becky even tried her hand at property development with her mum in Hull, while working full-time in Suffolk. 

Her dream would be to live in rural southern France surrounded by animals (including donkeys), French food and wine, with all her family living nearby. 

During her spare time she's a real home girl and loves spending time with her family and describes herself as a constant worrier. 

Becky hates flying and spiders, but loves her food and toilets - which could be something to do with overactive bladder syndrome. It doesn't bode well for the three hour Treasure Quest programme - but does provide an endless source of loo gags! 

Listen to David and Becky on Treasure Quest, Sundays 9-12, and they have their own show on a Friday morning, 11-1.