Eric and Ernie
Duration: 01:00
The Story of Slapstick charts the history of the world's most popular comedy genre. Whether you're three or fifty three we all seem to love physical humour. It doesn't matter if they're slapped, banged or walloped, there's a simple glee in the misfortune of others. The 70s were a golden era for Slapstick and the most watched double act of the time even became a bit partial. Appealing to grannies and kiddies alike Morecambe and Wise thrilled millions with a saucy breakfast in what is regarded as one of the finest choreographed Slapstick routines of all time.
Available since: Wed 23 Dec 2009
3 months left to watch
This clip is from
Slapstick comedy special narrated by Miranda Hart charting the history of physical comedy.
First broadcast: 26 Dec 2009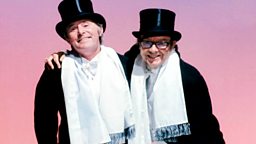 Featured in...
A collection of clips charting the history of slapstick comedy.
More clips from The Story of Slapstick