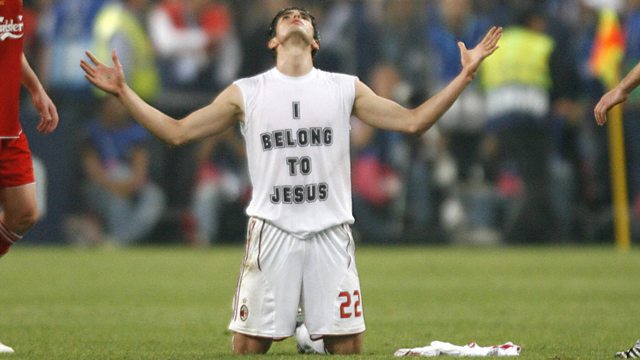 06/01/2010 Faith and Football
The cliche may have it that football is the new religion; but a new generation of football players are bringing God back onto the pitch.
Most famously, the Brazilian player, Kaka, has on several occasions celebrated his victories by revealing a T-shirt, which reads "I Belong To Jesus".
Faith can play an important part in a player's life. In African football, traditional belief systems, such as juju, have long been associated with the game.
But new Christian movements are displacing juju in Africa. And everywhere they are showing signs of wanting to play a bigger role in football.
But FIFA would rather religion stayed out of football, and have warned they will not tolerate any expressions of religion, such as those professed by Kaka, on the pitch during this year's African Cup of Nations and World Cup.
It argues football's power to unite could be threatened if it does not remain secular.
Below: Brazilian football player Kaka and his t-shirt which reads: "I Belong To Jesus". Picture by Getty Images
Last on
Sun 10 Jan 2010
23:05

GMT