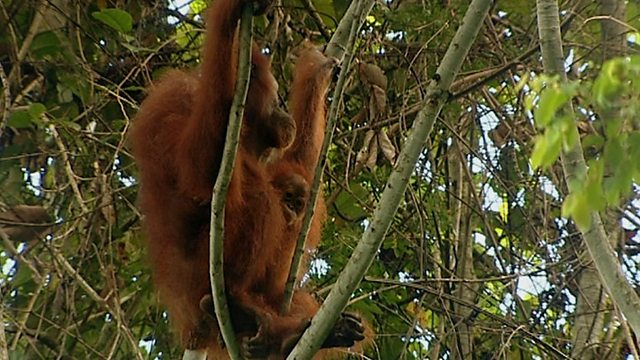 Momentous day
Eight months after she was pulled, half starved, from an oil palm plantation with her frightened baby clinging to her wasted body, Mama Abut is about to start her new life. Not in a cage, or on an island, but back in the wild, in a forest that everyone hopes will never be ripped from under her. She hasn't quite grasped the momentousness of the occasion. She's still a little bit sleepy. The team tries to coax her out of the cage and she slowly moves out and off into the undergrowth, before climbing upwards with her baby clinging on. It's taken incredible dedication to get 36 orangutans back into the wild, but their forest homes are destroyed so fast that in just two months there could be that many more new arrivals at the Centre. Releasing them all seems an impossible goal, but it doesn't stop everyone here from trying.
Featured in...
Be captivated, informed and inspired by the world's wildlife.

A collection of clips highlighting some of the most vulnerable animals and plants on Earth.

The most fantastic moments from a year of wildlife programming from the BBC.