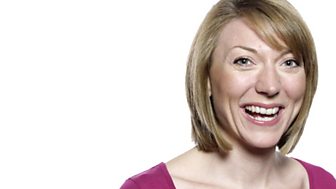 Katie Martin
Join Katie Martin on BBC Radio Solent.
About Katie Martin
Whether you're on the school run or at your desk, you'll also hear the very best celebrity interviews plus some great music with Katie Martin on BBC Radio Solent.
Katie's broadcasting career began at BBC Manchester before joining the presentation team at BBC Radio Stoke.
Having made the move to Hampshire to join BBC Radio Solent, Katie has family in the region with fond memories of visits to the Isle of Wight and winning talent contests at holiday camps on Hayling Island.
She says: "There's no place I'd rather be than the beautiful South!
"Every corner you turn there's something wonderful to see and someone friendly to chat to.
I love the fact that I can wake up and think, 'shall I take a walk on the beach today? Go shopping at a farmers market, or maybe visit a museum? All are possible, and all are right on the doorstep, who could ask for more?"
Away from the airwaves, Katie can often be found having a chin-wag with her neighbours.
She says: "I love a good gossip as well as finding out about what's happening in the local area, learning about its history, and meeting the fabulous people who live here."
She is also an avid football fan and tries to keep fit at the gym.
Katie says: "Other than going to the match, I enjoy a night out with friends, gardening (if you can count tending to hanging baskets as gardening), cooking (I make a mean thai curry), spending time with my family, and of course, having a good natter with the girls!
E-mail the programme: katie.martin@bbc.co.uk