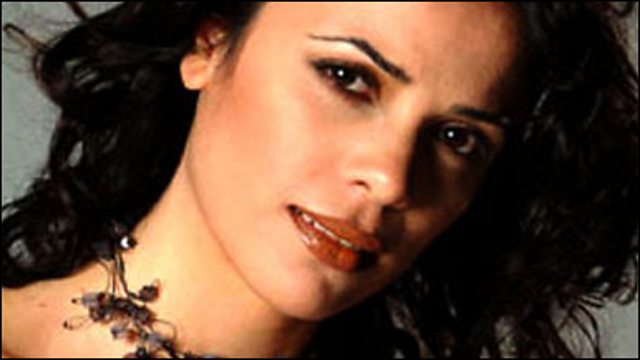 02 January 2010
This week's programe starts with another track by Charlie's favourite Brazilian musician of the moment CeU; Yasmin Levy (pictured below) another glamorous vocalist follows later on. Both the late Nigerian Haruna Ishola and Ibrahim Tatlises from Turkey are renowned not just for their remarkable voices but also their business acumen: Ishola pioneered artist-owned record labels in Africa and Tatlises is one of his country's best known media personalities who somehow finds time to run hotels, restaurants and even a small airline.
A small mystery next: in the history of flamenco, there are several candidates for the title El Principe Gitano, which loosely translates as the original gypsy. But which of them is featured on the recent re-issue of classic 1940s recordings played in the programme?
The three female Dutch vocalists that make up Three-ality started out as specialists in European medieval songs, complete with frilly costumes, but on their first album they teamed up with producer Onno Krijn who added non-Western musical layers. Patrick Sebag's Bagdad Guru travelled in the opposite direction, at least musically speaking: he recorded four venerable Sufi singers at the shrine in Nagore, Tamil Nadu and later clothed them in both traditional Indian and 21st century electronic sounds.
Last on