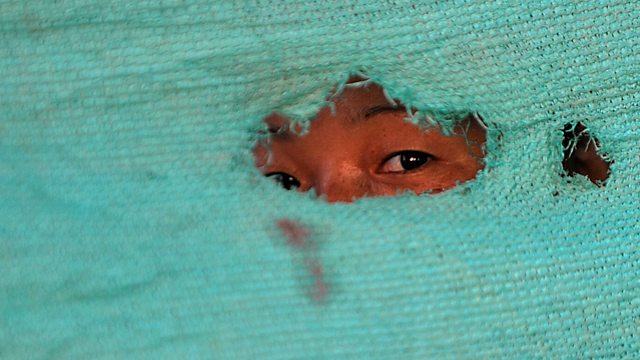 30/12/2009
Katie Piper on surviving an acid attack
Katie Piper was a 24-year old TV presenter when she was attacked with acid. She was left fighting for her life and suffering from terribly disfiguring burns to her face, arms and chest. Following pioneering surgery using artificial skin to re-build her face, she made a TV documentary about her story.
40th anniversary of Moonlandings
In July many Outlook listeners shared their memories of the Moon landings in 1969. We also spoke to some of the lucky few who have been into space, European astronaut Jean-Francois Clervoy and Russian cosmonaut Georgy Grechko.
Back to school in the Swat Valley
One of the big stories of the year was the campaign by the Pakistan government to drive the Taleban out of the Swat Valley. Local journalist Adnan Rashid kept Outlook listeners up to date as he and his family fled the city of Mingora. After their return, he sent us this report about local schools re-opening and how their lives were getting back to normal.
Josef Fritzl's Psychiatrist - Dr Heidi Kastner
Anyone reading about the dreadful crimes committed by the Austrian Josef Fritzl could be forgiven for assuming that he was insane - yet the forensic psychiatrist Dr Heidi Kastner came to the clear conclusion that he was not. It was a crucial piece of expert evidence for the prosecution, meaning that Fritzl could be put on trial and brought to account for his crimes. He is now serving a life sentence in prison. She told Matthew how the experience has affected her.
Save Our Sounds - Horsehooves in Kyrgystan
The BBC's Save Our Sounds project tracked down the sounds we would miss most if they disappeared. Abdujalil Abdurasulov reported from Kyrgystan, where the sound of horse hooves reminded him of his childhood.
Blind children climb in the Himalayas
For Sabriye Tenberken, being blind is no obstacle to fulfilling her dreams. She told Matthew why she led an expedition of visually impaired children up a mountain in the Himalayas.
Muhammad Ali's Irish relatives
The boxer Muhammad Ali went back to his roots when he visited Ennis in Ireland this summer. He received a very warm welcome from his Irish relatives.
Joel Grey & Outlook listeners' eyes
The actor and photographer Joel Grey has published a book of photographs taken with his mobile phone. He inspired Outlook to ask listeners for pictures of their eyes. You can still see the beautiful results on our website.
Last on
Thu 31 Dec 2009
12:05

GMT