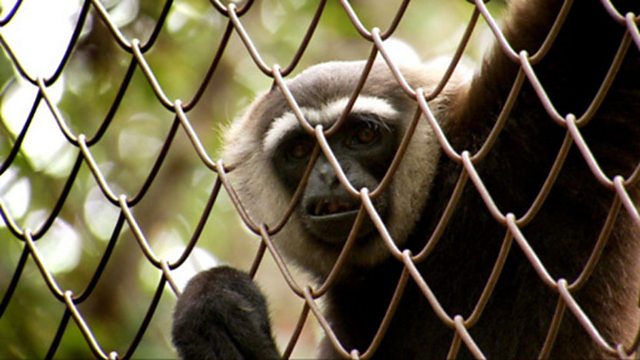 Gibbon dating agency
Adult gibbons live as couples and are fiercely territorial. If an adult is released alone, it's likely to be attacked or even killed by a wild pair. For this reason the most crucial part of the rehabilitation process is a successful pairing with a mate. But that's no easy task - you can't put one male and one female in one cage and know for sure it will be a good pair. You need to find the right character, the right gibbon with the right partner. Luckily for these individuals, Chanee has been pairing gibbons since he was a teenager, volunteering at French zoos. And now he's the most experienced gibbon matchmaker in the world.
Gibbons have to be in a pair to be released. The scientists can anticipate who will be the boss in the enclosure. In every pair one gibbon is dominant, sometimes it's the female, sometimes it's a male. If both gibbons are dominant, they'll fight until one dies.
When gibbons are paired there are three potential outcomes: aggression, indifference, or attraction. Bundad, a young male, is unaware he's about to be introduced to Leoni, a young female. The best plan is to release both gibbons in a new enclosure so they don't feel like it's 'their' enclosure and somebody is coming in. Each gibbon has to be tranquilised before being moved. Just like the local Dayak hunters, the team use blowpipes. Surgical masks are essential to prevent the transmission of human diseases.
As Leoni wakes up from her sedation a sleepy Bundad is put into the new enclosure first. Both Leoni and Bundad were snatched from their parents as youngsters. This will be the first time either has ever met or touched another of their kind. The team anticipate that Bundad will establish himself as the dominant gibbon in their relationship. However, Leoni is already eating all the bananas, taking advantage of the fact that Bundad has yet to recover from his sedation. But there are some positive signs and Chanee is hopeful when he sees Leoni already telling the male he is the boss by grooming him. But they still have to be careful. The male, Bundad, is not yet fully awake so the pair is monitored closely to ensure everything is ok.
Credits
| Role | Contributor |
| --- | --- |
| Presenter | Adrian Edmondson |
| Producer | Mike Birkhead |