Elephant emotions
Duration: 02:42
Elephant society is based around mothers and long childhoods. A birth is one of the most emotional times in a herd and when a 250lb newborn arrives after 22 months the enthusiastic greeting is like a collective hysteria. Some hours later the calf is still surrounded, mostly by cousins and aunts wanting to help him up. His mother lets the over-enthusiastic relatives fuss over the calf. If all goes well, they'll share in the mothering. Such close ties around a baby are bound to cause friction. When a male decides he wants to mate with one of the calf's admirers, but can't distract her from the new arrival, the bull takes his frustration out on the calf. He gives the calf a hefty shove with his trunk. For accidentally derailing the bull's passionate moment, the newborn next gets a foot in the face. For an hour he is kicked about like a football, as the emotional animals feel frustrated or protective and knock him or try to help him up. In the end the bull gives up, and the calf is finally able to follow the smell of milk to its source and feed. A day or two on and there's more in store. One of the youngster's aunts surreptitiously touches him with her tail to locate his position behind her, lines up carefully, and kicks him! But what made her do this? There are bound to be jealousies around a new baby, yet her anger seems controlled. A rational mind is helpful in coping with emotional moments, like having a newborn in the herd.
Available since: Thu 26 Nov 2009
Credits
Presenter

David Attenborough
Producer

Mark Fletcher
This clip is from
5/14 Natural World investigates the vital bond between animal mothers and their babies.
First broadcast: 26 Nov 2009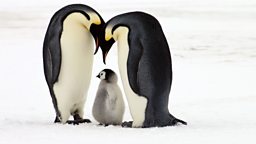 Featured in...
Be captivated, informed and inspired by the world's wildlife.
More clips from Bringing Up Baby