Cross-dresser
Duration: 02:26
Some male cuttlefish are too small to fight for a mate, so have to come up with a sneaky plan if they are to get their way with the girls. Approaching a cuttlefish couple a smaller male assumes the role of a female, tucking up his tentacles and changing colour in an attempt to fool the large male who stands guard over the female. The large male thinks his luck is in with two females after his attention and is completed fooled by the small newcomer. As long as he avoids being grabbed in the mating embrace the cross-dresser is safe. Surreptitiously the female who's not too picky, mates with the smaller, sneaky male right in front of the large male. The eggs she now lays will contain a mixture of sperm from both fathers, giving her eggs the best possible chance of success.
Available since: Thu 26 Nov 2009
Credits
Narrator

David Attenborough
Producer

Neil Lucas
Executive Producer

Michael Gunton
This clip is from
8/10 A look at marine invertebrates, including Humboldt squid, starfish and giant octopuses.
First broadcast: 30 Nov 2009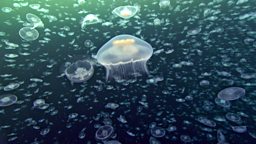 More clips from Creatures of the Deep