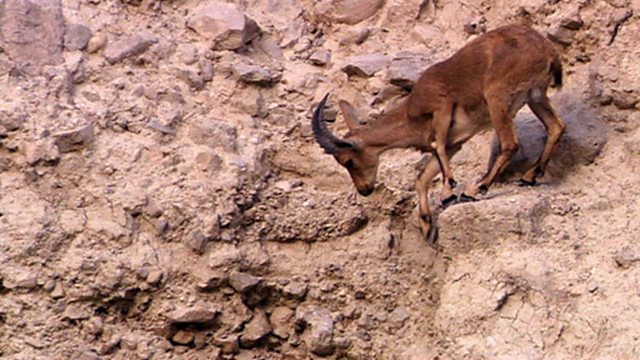 Sure footing
High up on steep cliffs, ibex give birth to their young. The kids are protected for the first few days, isolated on the clifftop, but to reach the only food and water in the area they must descend into the gorge, and the domain of their enemies. The adults begin to descend, leading the way as they know the safest routes. But safe is a distinctly relative term on these precipitous slopes - every step looks like it could end in a slide to the death. The kids must follow and keep close by. Cloven hooves that spread under load, astonishing balance and the most uncanny agility are their only assets and help the youngsters keep their footing. Barely a week old they are utterly fearless and learning to negotiate the cliffs is essential to their survival. At the bottom, the family must be on guard against predators as they grab the chance to browse. Trailing behind is a straggler and lying in wait is a fox. The fox leaps from cover and chases the young kid back up the slope. Instinct forces the kid upwards, until it finds a safe, tiny ledge on one of the steepest parts of the cliff. Only an ibex could reach and stand here, the fox just can't get to it and the kid has learned a valuable lesson.
Credits
| Role | Contributor |
| --- | --- |
| Narrator | David Attenborough |
| Producer | Adam Chapman |
| Producer | Martha Holmes |
| Executive Producer | Michael Gunton |
Featured in...
Discover the wildlife of the Life series.

Be captivated, informed and inspired by the world's wildlife.