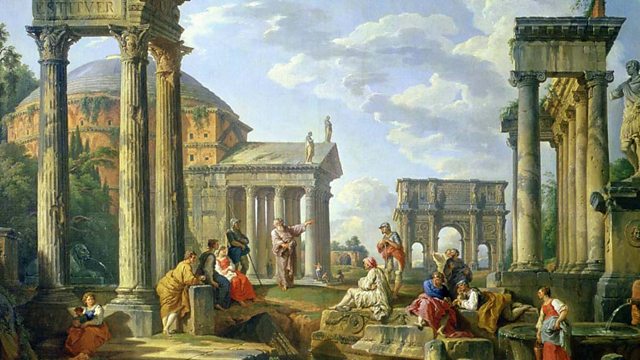 Rome and European Civilization
Listen in pop-out player
Melvyn Bragg assesses the role Rome has played in European civilization. The myths that surround the foundation of Rome are a potent brew. Romulus and Remus, the sons of Mars, raised by a she-wolf in the woods of Latium, the Sabine women raped by the Latins, Aeneas the Trojan General, wrecked off Carthage, loved by Dido and finally founding a new civilisation on the Tiber's banks. According to William Shakespeare, after Brutus slayed his friend Caesar he claimed, "Not that I loved Caesar less but that I loved Rome more". But what was the idea of Rome that demanded such devotion? And how was an identity forged that exported its values to the greatest Empire the world had ever seen? Rome has meant Republicanism, as well as Imperialism; it has stood for Pax Romana and also for the machinery of war, it is an eternally pagan city that still beats as the Catholic Heart of the Christian Church. With Mary Beard, Reader in Classics at Cambridge University, Catherine Edwards, Lecturer in Classics and Ancient History at Birkbeck College, London University; Greg Woolf, Professor of Ancient History at St Andrews University.
Last on
Featured in...
Browse the Ancient Rome era within the In Our Time archive.

Historical themes, events and key individuals from Akhenaten to Xenophon.