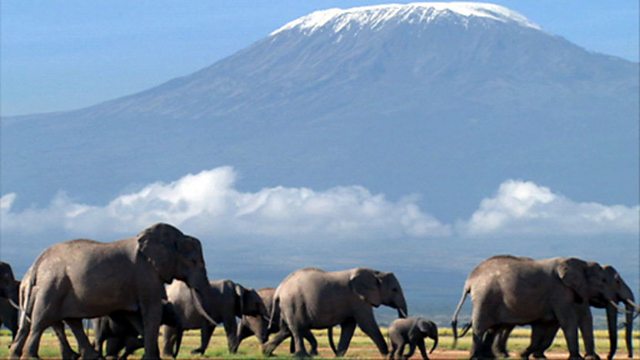 Granny saves the day
The survival of elephants depends greatly on profiting from the experience of many lifetimes. A new-born calf is welcomed by the whole herd, but the mother is young and inexperienced - this is her first baby. A new infant can face serious problems, and even the most basic need for water is fraught. The mother needs to drink to be able to produce milk for her calf, but after five miles in search of a water hole, the baby is flagging and beginning to dehydrate. The mother encourages it onwards, the herd is close enough to smell the water nearby. But when they reach the water the exhausted calf finds it hard to negotiate the swampy channels and ends up getting stuck in the mud. The mother tries to help, but standing over the calf she only succeeds in pushing the baby further in. The grandmother spots the problem and moves swiftly up behind the mother to intercede. A violent shove pushes the mother out of the way, and allows the calf to struggle free. It's only with the help of her grandmother that the infant stands any chance of survival.
Credits
| Role | Contributor |
| --- | --- |
| Narrator | David Attenborough |
| Producer | Martha Holmes |
| Executive Producer | Michael Gunton |
Featured in...
Be captivated, informed and inspired by the world's wildlife.

Discover the wildlife of the Life series.