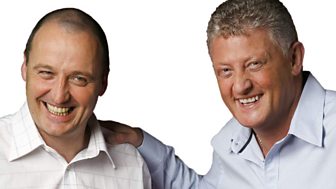 M&S Show
Sean Styles and Willie Miller with fun and good music.
On demand
This programme is not currently available on BBC iPlayer Radio
On radio
There are no upcoming broadcasts of this programme
Last on
Sun 15 Apr 2012 11:00
BBC Radio Merseyside
About the programme
Willie Miller joins Sean Styles Sunday mornings for a fun packed two hours (1100 - 1300).
Willie is a big Liverpool FC fan with a passion for 'pound shops' - he loves to mooch around for hours and buy lots of useless junk he'll never use.
Willie insists that Sean and himself really do make each other laugh and that nothing in the programme is scripted, even the parts that aren't broadcast.
He admits to being terrified of leaving the mic on when it shouldn't be, "We would be sacked!" he laughs. "We do have a laugh in between records, I once did a whole show in my underpants just to wind Sean up."
Willie would like to continue presenting as long as the listeners want him to "I enjoy the atmosphere at the station," he says.
"And it's great to say that you work for the BBC."
Sean feels that his comedic background has been a great grounding for radio: "You just couldn't script some of the things listeners come up with when they ring in!"
Sean says comedy has been a part of his life for as long as he can remember. He reckons his first audience was probably at the doctor's office when he did 'the twist' in the waiting room. This continued through his schooldays when he'd entertain classmates with impressions of teachers.
Sean's passions in life are varied: "I hate spiders, I love chocolate ice cream, red shoes and Everton FC.
"I love reading, but not fiction. I once tried to read 'The Thirty Nine Steps' but got fed up after the first two flights!"