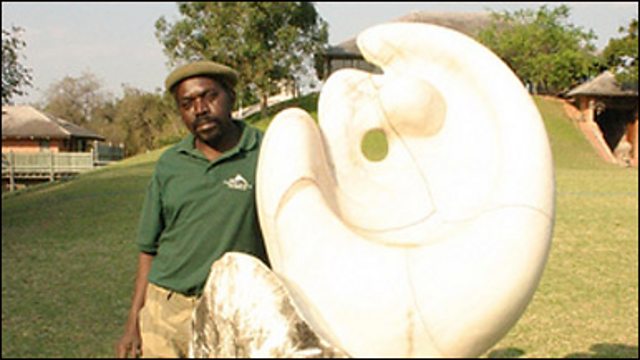 24/10/2009
The best of the world's arts, film, music, literature and music brought to you every day.
Lustrum - The new novel by Robert Harris
Somehow what was the world's greatest democracy has become a virtual dictatorship without anything happening in between. The more people talk about freedom of speech the less there is. The generals of the army have begun to make political statements. The Consul seems to have just gone quiet. Welcome to .........Ancient Rome.
Flinto Chandia
Zambian's best known sculptor, Flinto Chandia, takes The Strand on a tour of his boyhood home and remembers the artist who inspired him by secretly drawing on the sides of houses in the middle of the night.
Alarm Will Sound
The New York based chamber orchestra 'Alarm Will Sound' has recorded an album of music with deliberately confusing rhythms, and it even includes a few tracks that it was thought impossible for human beings to play. Harriett Gilbert talks to managing director and composer Gavin Chuck and Artistic Director Alan Pierson about recording the impossible.
'Where the Wild Things Are' heads for the big screen.
Maurice Sendak's children's picture book, 'Where the Wild Things Are' has sold more than 19 million copies since it was first published in 1963. Now the director Spike Jonze has adapted it into a big screen version starring James Gandolfini and the child actor Max Records. As it's released in cinemas in America, The Strand speaks to the film critic Jeffery Lyons.
Patricia Melo
Harriett speaks to the bestselling Brazilian novelist, playwright and screen-play writer Patricia Melo about new book Lost World. Her hero, Maiquel is a professional killer and the book is a violent road trip which dishes the dirt on Brazil's drug culture, religious exploitation and police corruption.
BASSEKOU KOUYATE
Malian-born Bassekou Kouyate is a musical revolutionary - he has thrust his instrument, the ngoni, to the forefront of the world music scene. He talks with Mark about his new album 'I Speak Fula' which is being much touted as one of the World Music albums of the year.
Wu Ming Collective
Wu Ming is an Italian collective of five fiction writers whose previous novel 'Q' was written under the pseudonym 'Luther Blissett'. Bidisha talks to Wuming 1 and Wuming 4 about their latest work, Manituana, set in 1775, it looks at the American War of Independence from the point of view of the Native Americans
Last on
Sun 25 Oct 2009
01:32

GMT