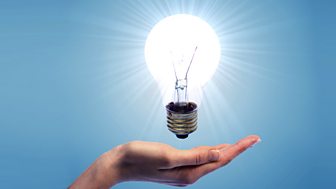 The Forum
Bridget Kendall presents an ideas discussion show which tackles the big questions of our age with some of the world's most eminent minds.
A Ring to Catch Your Ideas?
David Cooper comments on
Claudia Roda's 60 Second Idea
: It's very hard to forget your best ideas, but there are a lot of lesser ones that you need to catch, so keep a notebook at the ready, and especially by the bed, because it's on the way to sleep that a lot of good ideas appear, and they are at great risk of being lost if you fall asleep without making a note about them first.
Reflections on Feet by Forum listener Clive Duncan
Feet are about as far away from our heads as any extremity can be and we do take feet for granted until that is, we have a pebble in our shoe.
I am a professional sculptor and was for thirty years principal lecturer in sculpture and anatomy in a fine arts faculty at a London university. My teaching from the life model always began with the feet. I suggested to students to lie on the floor and view the model's feet at ground level. The architecture of the foot was immediately made visible and the structure and arch of the foot turned into a suspension bridge with a great vault.
The models would stand on a mat coated with charcoal dust and then place their feet on a clean sheet of paper. The result showed a footprint with barely any contact with the ground. Five small tow pads, the large joint of the big toe pad, a heel print and a fine outer mark of the fascia muscle. The area actually making contact with the ground was minimal (in most cases) as most of the foot made no contact with the paper.
The history of figurative sculpture perfectly demonstrates how our understanding of the foot progresses from the Egyptian symbolic foot, the Archaic Greek grounded foot and later, the Greek Kouroi. There is a gradual release from his base and a transformation into the Classical Greek athlete who is barely making contact with the ground plane. Demonstrated in Miron's Discobolus, throughout the Roman, Etruscan and early Renaissance art of Italy, the human foot becomes an integral part of the artistic expression of the entire body (as do the hands). The gestures incorporate the extremities defining pathos, pain, grief and force.
After Donatello, Michelangelo's Pieta in St Peters is a most profound carving. It shows both fragility and strength and Christ's feet are as much if not more, filled with expression than any other part of the marble. Baroque Rome and Bernini move the expressionist power of the human foot to extraordinary extremes. In the struggle between Pluto and Proserpina, Bernini not only makes her body recoil but her feet and toes lash out for a toe hold which is often depicted in sculpture by the second toe being longer than the big toe.
My daughter throughout her young life trained as a ballet dancer. I was lucky enough to see her dance with the London City Ballet and attend a class with Ninette de Valois. As your guest commented, many times my daughter's pointe shoes were full of lambs wool soaked with blood.
The high heel is also an extraordinary part of fashion accoutrement and today's seven inch stilettos are clearly moving into the fetishistic zone. The effect that they have on the physical gait changes posture and I did a series of drawing sessions noting the kinetic changes in normal walking with and without shoes. The fashion cat walk has produced its own form of gait. Feet-led with the body following on behind with the centre of gravity entirely re-organized.
I am always intrigued when I see people on a shingle beach walking over sharp stones waving their arms about in the air in an attempt to lighten their body weight as gravity forces their feet into the painful shingle. Also the remarkable capability of the foot to position itself in readiness to take on any surface inclination when children run over jagged rocks on the shore. The ankle joint is slightly limited but nevertheless does a remarkable job.
60-second Inspiration in Spain
I work as a Secondary School teacher in Spain and I would like to tell you that your radio programme "Forum: a World of Ideas" has inspired my students and me to do a very rewarding activity. I challenged my 16- year-old students to save the world in 60 seconds and, as in your programme, they were given different concepts to think about. They came up with really fresh and thoughtful proposals so we decided to record them. Thank you very much for your wonderful and, as you can see, inspiring job.
Silvia Rielo, Head of English Department, I.E.S."María Blasco"(Sant Vicent del Raspeig-Alicante-Spain)
Meet the presenter: Bridget Kendall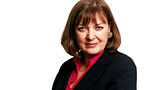 She is a BBC diplomatic correspondent and has been since 1998
She was a foreign correspondent in Moscow (1989-94) and Washington (1994-98)
The first woman to win the James Cameron Award for distinguished Journalism (1992)
In 1994 she was made an MBE
Speaks fluent Russian and French