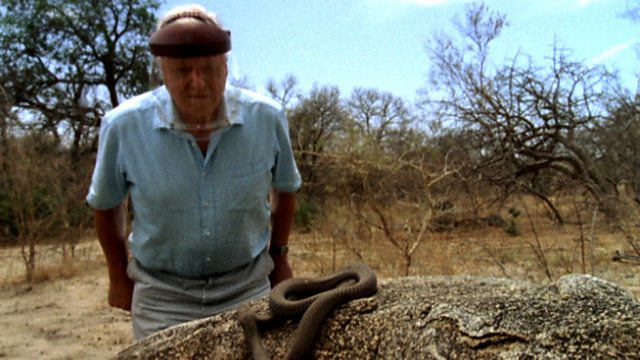 Snake tactics
David Attenborough demonstrates how a cobra uses its venom to deter its enemies without even biting them. For safety, he wears a visor that has been coated with a substance that turns pink when it comes into contact with venom. The snake watches David's approach and when he gets too close lets loose a stream of venom, spraying it from side to side to give it the best chance of blinding its victim. David's visor is covered with pink dots, each one a bead of venom that would have caused extreme pain as well as blindness.

Credits
| Role | Contributor |
| --- | --- |
| Key talent | David Attenborough |
| Key talent | David Attenborough |
Featured in...
Be captivated, informed and inspired by the world's wildlife.

David Attenborough's selection of memorable film moments demonstrating the leaps in filmmaking technology in the past 30 years and showcasing the diversity of life on Earth.