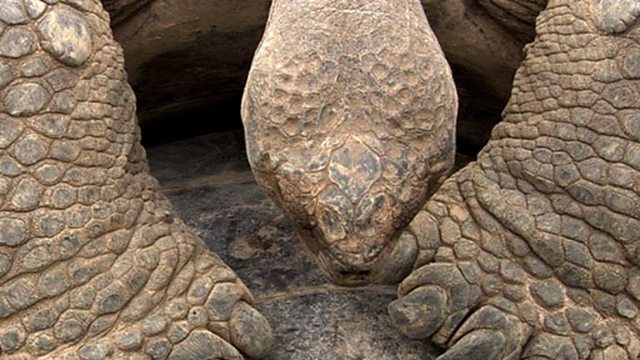 Giant undertaking
Cold-blooded Galápagos tortoises bask on volcanic vents to warm themselves. They weigh up to a quarter of a tonne and their heavy shell makes mating difficult. To stop the males falling off during the lengthy mating process, they have evolved a concave underside to their shell, which fits on to the convex top of the female's shell. The males call as the pair mates.
Credits
| Role | Contributor |
| --- | --- |
| Key talent | David Attenborough |
| Key talent | David Attenborough |
Featured in...
Cheetahs, falcons, elephants and whales - meet the animal record breakers.

Be captivated, informed and inspired by the world's wildlife.

David Attenborough's selection of memorable film moments demonstrating the leaps in filmmaking technology in the past 30 years and showcasing the diversity of life on Earth.