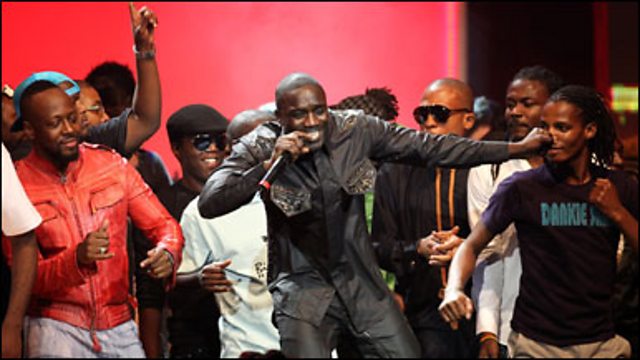 12/10/2009
On today's programme: MTV Africa Music Awards, Obama Art, Titi Robin, Aftermath.
MTV Africa Music Awards
The 2009 MTV Africa Music Awards took place on Saturday in Nairobi airing to a potential TV audience of 1 billion viewers around the world. Kenya's Amani received the Best Female Artist award for her song Tonite while Nameless bagged the Listener's Choice Award and Best Male Artist for his hit single Sunshine. DJ Edu joins us from Kenya to tell us more about the big night.
Obama Art Collection
Barack Obama has not only just won the Nobel Peace Prize, he's also been revamping the White House art collection. The Obamas have been in touch with museums, galleries and private collectors to borrow an eclectic collection of modern art by African-American, Asian, Hispanic and female artists for the White House. Art critic Tim Marlow reviews their choices....
Titi Robin
Titi Robin describes himself as a Mediterranean Musician. From the West of France, his music combines international influences from the Arabic oud and flamenco guitar stretching East to include the influence of Rajasthani snake charmers. Titi brings his band into the studio, including his daughter, to play a special session for The Strand with a song from his album Gitans.
Aftermath
In the six years since the US-led coalition invaded Iraq, there have been countless films, books and plays written from the perspective of soldiers, politicians and journalists, but comparatively few - in the West, at least - that describe the experiences of Iraqi civilians. A new play from the acclaimed American directors Erik Jensen and Jessica Blank aims to redress the balance a little. Aftermath, which recently opened at the New York Theatre Workshop, is based on the true stories of Iraqi refugees living in Jordan, many of whom have lost family members as well as their homes and their jobs.
Last on
Tue 13 Oct 2009
11:32

GMT