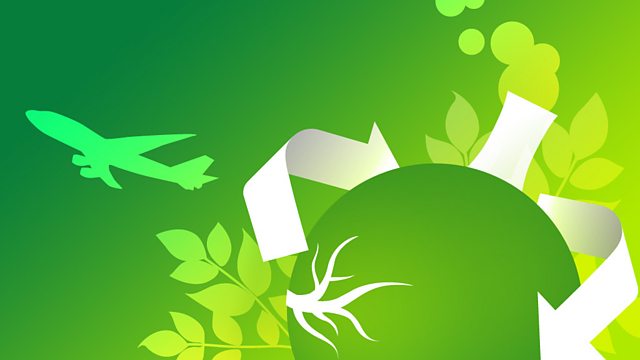 01/10/2009
We are One Planet, and we fly a lot. A statement that in recent years has become less of a fact and more of a confession. Well over one and a half billion passengers were carried around the world on a plane last year. Yet a great many us now feel guilty about travelling by air because of the carbon emissions involved. This week on One Planet, we take a look at the deep emission cuts the industry is promising.
Richard Hollingham joins Stephen Ridgway, the boss of Virgin Atlantic, on his train ride home, to pick apart how the reductions will be achieved - and asks whether we should feel guilty for flying (you may guess Stephen's answer, but his reasoning is interesting: the global economy).
Also in the show, Richard takes a ride on a flight simulator and asks a plane designer about the kinds of airlines we'll be boarding in the near future. He also ponders what sound an electric car should make. Have a listen to his attempt, and then come up with something better and email it to us, oneplanet@bbc.com.
Plus we have a report from the West Khasi Hills in India, which is the site of protests as India's Uranium Corporation gets ready to mine the area for uranium ore. It's valuable stuff - helping keep the country's nuclear plants fired up. But many locals are fearful, claiming previous attempts to mine the ore has left a trail of environmental and health hazards.
As ever, tune in or download and then let us know what you think. The email address is above, or feel free to write to us at One Planet, Bush House, BBC World Service, London. And if you're on Facebook, remember you can always join in the conversation on our home page, the link's below.
Last on