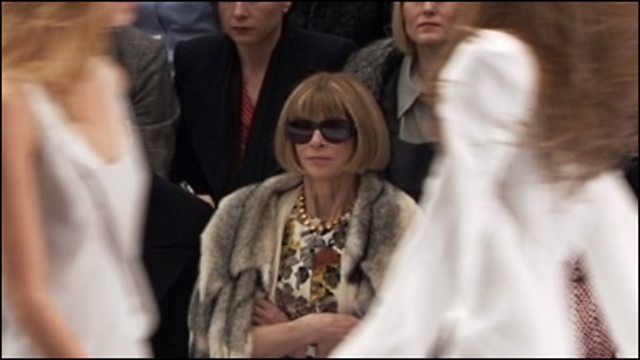 The Strand - Friday 11th September 2009.
The best of the world's arts, film, music, literature and music brought to you every day. Presented by Harriett Gilbert.
On the programme today: The September Issue, The Power of Dogu, Abdourahman Waberi, Recession Pop.
The September Issue
(Above Photo: A&E Indie Films.)
The September Issue is an American documentary which follows the legendary editor of Vogue, Anna Wintour, leading to the publication of the 2007 September issue. The edition was the single largest issue of a magazine ever published. Director RJ Cutler tells the story of a very decisive, cool and influential editor described as "the Pope of the fashion world". We review the film with the fashion news editor of the magazine Grazia, Kay Baron.
The Power of Dogu
Ceramic figures from prehistoric Japan dating from 2500BC have just gone on display in the British Museum. Rarely seen outside of Japan these mysterious masterpieces wielding spiritual powers,were produced in huge numbers.As the exhibition reveals, they shed light on the country's early archaeology as well as bearing an uncanny resemblance to the art that emerged from the studios of artists such as Max Ernst and Picasso.
Abdourahman Waberi
The Djiboutian writer Abdourahman Waberi talks about his newly translated novel, in which refugees from the slums of America and the squalor of Europe are desperate to escape to better lives in the United States of Africa.
In the United States of Africa is published in English by the University of Nebraska Press.
Recession Pop
Why is no one singing out about these hard financial times?
From Woody Guthrie to Public Enemy, pop music has produced some timeless acts born out of hard times. A year in to the worst financial crisis in recent memory one would expect a plethora of pop responses. But it seems only the old timers such as Neil Young feel strongly enough to react. For The Strand, critic Robert Sandall asks why there has been such a lacklustre response, and at the same time looks back at the troughs of the world's financial charts and their correlation with previous artistic peaks in the world of pop.
Last on
Mon 14 Sep 2009
11:32

GMT