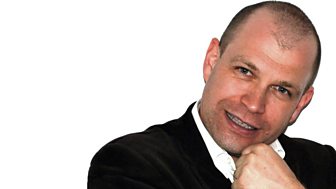 Joe Talbot
Joe Talbot ... Saturday from 0600 on BBC Surrey.
Joe Talbot was born a long time ago to a couple of luvvies in South West London.
He is married to a woman and they have three children, two girls and a boy.
The marriage has recently been put under tremendous strain by the arrival of a terrible terrier called Titch.
This dog has received so much air time dedicated to him recently that it has been suggested that he might become part of the presentation team.
But it turns out that the BBC can't afford him, so they will keep on using Joe Talbot.
Away from the radio Joe drinks as much beer as he can, avoids family gatherings and mimes to the Four Tops in the mirror when he thinks nobody is looking.
Joe isn't sporty but does play the odd game of squash, swims, jogs (with Titch, who seems to hate jogging more than Joe) and about every ten years attempts a round of golf (Joe not Titch).
Be part of it ... by calling 0370-411-1046 and text 81333 (start your message with the word "radio").
On demand
This programme will be available shortly after broadcast