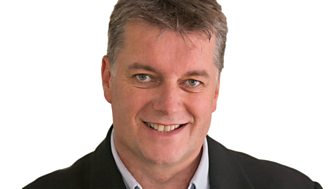 Graham Rogers
Join Graham Rogers on BBC Wiltshire.
About the programme
Want to know what is happening in Wiltshire at the weekend? 
Start your weekend with a smile and join Graham Rogers for the Saturday Breakfast Show.  He'll bring you great music, plus all the news you need to get into that weekend frame of mind.
You can also join him for the BBC Wiltshire Sunday Breakfast Show. It's a chance to explore the week's news from an ethical, faith perspective and enjoy some well chosen music.
Graham was one of the UK's youngest presenters, starting his radio career at the age of just 15.  He also worked as a television presenter working for both ITV and the Sky Network.  Graham's voice may sound strangely familiar… he spent five years as the voice of ITV introducing the likes of 'Coronation Street' and 'The X Factor'.
Married with a young daughter, Graham is a bit of a foodie.  He enjoys both cooking and eating, exploring the many wonderful pubs and restaurants that Wiltshire has to offer.