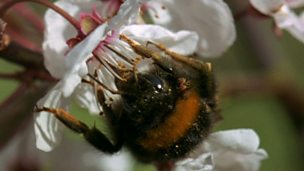 Bee dynasty
Duration: 06:03
David Attenborough talks about evolution of the bees. When flowering plants evolved some types of wasp evolved into the bees to make use of their nectar. A queen bumblebee goes in search of a hole to make a new home. She makes a nest of beeswax - a substance no wasp can make. Her daughters take over the building and feeding of a thriving colony, and the queen keeps them in line with pheromones - chemical signals that supresses her daughters' sexuality. The daughters tend the nest and gather nectar and pollen, which is rich in protein. By the end of summer the queen has stopped producing her ant-reproduction hormones, because she needs to lay queen and drone eggs. The downside is that her existing daughters also start to lay eggs, which the queen destroys, but a few will develop into males. Eventually the queen loses control of the colony, her daughters attack her and she is stung to death. None of the workers will survive the winter, only the new queens.
Available since: Thu 30 Jul 2009
Credits
Key talent

David ATTENBOROUGH
Editor-in-chief

Mike SALISBURY
Producer

Stephen DUNLEAVY
Camera Operator

Keith BRUST
Camera Operator

Rod CLARKE
Camera Operator

Martin DOHRN
Camera Operator

Alastair MACEWEN
Camera Operator

Peter NEARHOS
Camera Operator

Tim SHEPHERD
Camera Operator

Gavin THURSTON
This clip is from
Some invertebrates overcome the limitation of their small size by banding together in huge numbers to form societies which operate like superorganisms
First broadcast: 21 Dec 2005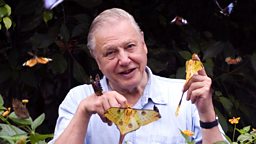 Featured in...
A collection of clips illustrating the importance of the honey bee and its recent decline.

Be captivated, informed and inspired by the world's wildlife.
More clips from SUPERSOCIETIES