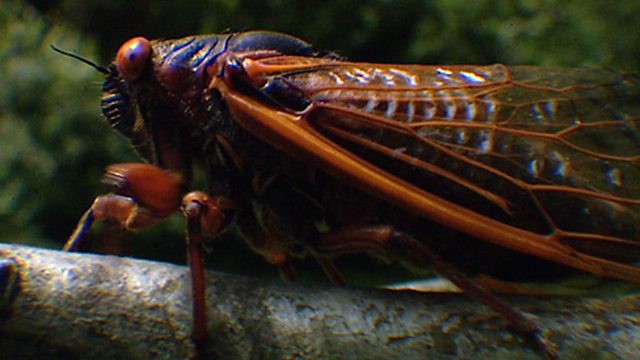 17 year swarm
The extraordinary 17 year cicadas in the eastern USA emerge from the ground in their thousands to moult and to mate. They have lived underground for 17 years, feeding on the sap of tree roots. Now they emerge and moult into their adult form - which includes wings, so they can fly off looking for a mate. They make a deafening noise as the males call to attract a partner. David Attenborough imitates a female cicada's reply to the male by snapping his fingers and a male follows him. It lands on his head and deafens him. Cicadas mate on a twig. No one knows how the cicadas count up to 17 to time their emergence.
Credits
| Role | Contributor |
| --- | --- |
| Key talent | David ATTENBOROUGH |
| Editor-in-chief | Mike SALISBURY |
| Producer | Mike SALISBURY |
| Camera Operator | Tony ALLEN |
| Camera Operator | Rod CLARKE |
| Camera Operator | Martin DOHRN |
| Camera Operator | Alastair MACEWEN |
| Camera Operator | Mark PAYNE-GILL |
Featured in...
George McGavin introduces some of his favourite video clips.

Be captivated, informed and inspired by the world's wildlife.